Dr. Thomas Ferlito is devoted to creating your beautiful smile!  He absolutely loves his career choice and the lifelong relationships he has formed with his patients.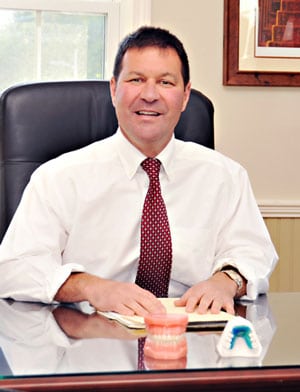 Dr. Ferlito was born and raised in Bradford, attending Haverhill High School and then matriculating to the University of Vermont for his undergraduate studies, graduating cum laude with a degree in Biology in 1979. Dr. Ferlito received his Doctor of Dental Medicine from Boston University Dental School in 1984. He continued his specialty training at B.U., receiving his orthodontic degree in 1986.
Dr. Ferlito authored an article which was printed in a recent issue of the Journal of Clinical Orthodontics. He was the staff orthodontist for the Boston Celtics from 1990-1998, treating players and their families as part of his practice. A humorous picture of Celtics hall-of-famer Robert Parish hangs in the treatment room and was taken the day his braces were removed in time for the retirement of his number at the TD Bank Garden.
Dr. Ferlito is currently the school orthodontist for Brooks prep school in North Andover. His professional affiliations include membership in the American Association of Orthodontists,Northeastern Society of Orthodontists, Boston University Orthodontic Alumni and the Haverhill Dental Association.  Dr. Ferlito is a guest lecturer at Harvard Dental School.  He was recently selected as the Italian Man of the Year at the annual Italian Brotherhood dinner attended by 500 men.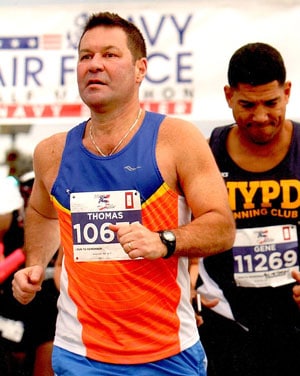 Dr. Ferlito and his wife, Kathy are the proud parents of 3 children.  The dental tradition for the Ferlito family will be continuing as his son, Thomas who is a senior at Harvard Dental School has been accepted into the Harvard Orthodontic specialty program.  His daughter, Kathryn has been accepted to Tufts Dental School with both programs beginning in July 2019.  Dr. Ferlito's third child, Allison graduated from Providence College, received a Masters in Public Health from Salve Regina University and works for the Dept. of Veteran Affairs.
Dr. Ferlito's hobbies include road racing (pictured), bicycling the Pan-Mass Challenge in August, competitive weightlifting, and sprint triathlons.